An Afternoon with Betony Vernon, High Priestess of Pleasure
The Parisian expat makes deliciously functional jewelry and extols the healing powers of BDSM
On a gray and rainy day in the bustling heart of the Marais, I find myself bound to Betony Vernon. This is not a figurative statement. The American-born, Paris-based designer, clad in black satin, with her fiery red hair cascading over her shoulders, has slipped a small gold ring on my finger; the ring is attached to a chain leading to a bracelet on her milky white wrist.

"I want you to feel what it does to us," she says, her voice husky and low.
Vernon has made a name as a self-described "sexual anthropologist" by honing in on the pleasure that we embrace and deny. The daughter of a civil-rights activist and an inventor, she grew up along the Appalachian Trail and moved to Europe in 1990, after graduating from Virginia Commonwealth University. In Florence, she taught jewelry and metalsmithing for Fuji Studio Workshop; from there she decamped to Milan, where she obtained her Masters in Industrial Design and founded her first atelier. Soon she was appointed Design Director for Fornasetti, the legendary Italian house. Married to Barnaba Fornasetti, son of Piero, for over 10 years, the now single—and singular—Vernon resides in Paris, upstairs from Eden, her private playground and sanctuary.
In Eden, Vernon meets with clients for bespoke fittings and displays her jewelry and objets. Erotic paintings and sleek cabinets line forest-like walls, and a Fornasetti leopard keeps watch from the commode beside us. The atmosphere is hushed and relaxed, the color scheme of green chosen for its unisex nature. (It also brings Betony back to her earliest memories of those Virginia forests.) Reclining in a Gio Ponti chair amid her spotlit handiwork—pastel feather ticklers, necklaces that double as harnesses, bracelets that fasten you to another—Vernon twists her double-sphere massage rings around a manicured finger.
"The blue-blooded fetishist," she says, "is a lover of fine materials."When she first began her search for such materials, in the early 1990s, Vernon realized luxury was absent from the world of sex shops—and sexuality itself. "It didn't really exist back then," she says. "I felt that the sense of ritual and the sacred and the durable and the sensual was missing. That was, of course, unless you visited the leather shops for 'the boys' on the wrong side of town."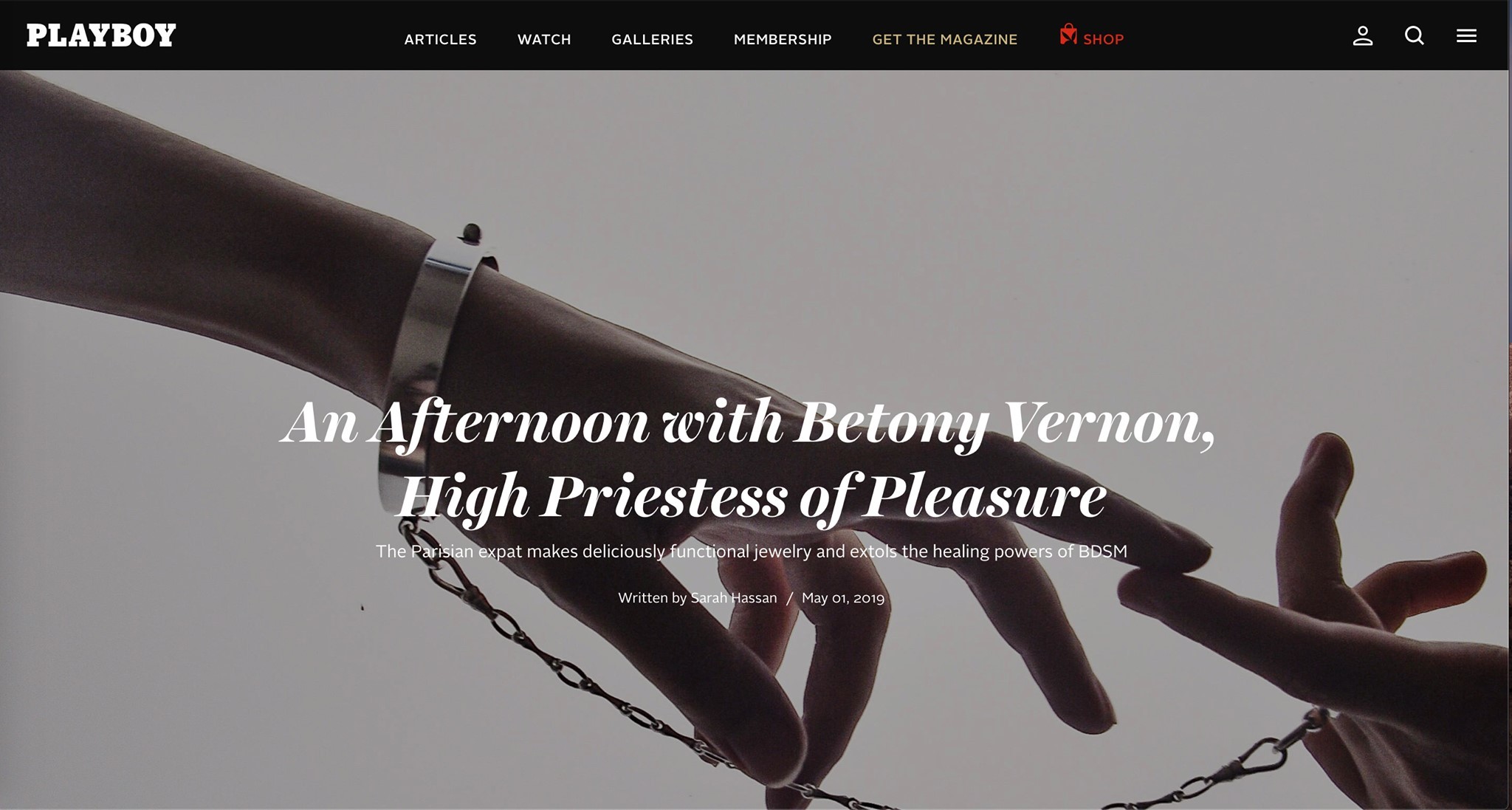 Because your worth it, Betony Vernon on Karley Scortino's slutever "Luxury Sex" with her friends Dita Von Teese & Douglas Little for Viceland / HBO. Slutever is a tv series, hosted by VICELAND & HBO, that explores sexuality, relationships, pro-sex feminism, BDSM, sex work, sex parties, and a bunch of other slutty stuff, as told from the front lines.
Karley Sciortino is a writer, host, and producer, based in New York. She founded this lovely website! She also writes Vogue.com's sex and relationships column, Breathless. Karley is the author of the upcoming book Slutever: Dispatches from an Autonomous Woman in a Post Shame World (Grand Central Publishing, Feb 2018), and executive producer and host of Slutever, a documentary series on Viceland. She is also a regular contributor to Purple.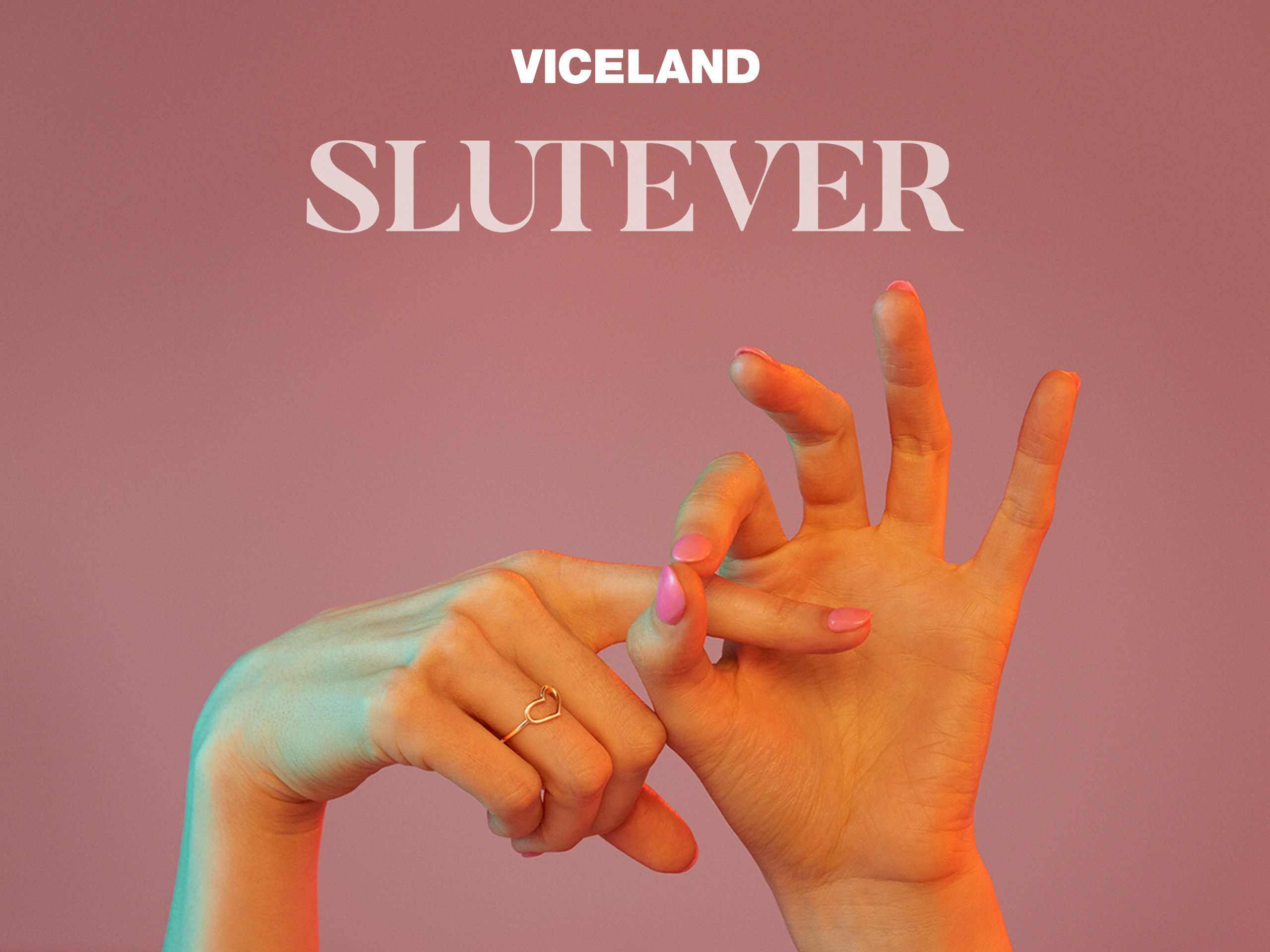 THE BOUDOIR BOX REVEALED
The Musée d'Art moderne de la Ville de Paris organized from 19 May until 5 November 2017, MEDUSA, a jewelry exhibition that questions our relationship to jewelry both physically and conceptually. Neither sculpture nor fashion per se, jewelry lies somewhere in between.
For the first time Betony Vernon unveiled the Boudoir Box to the general public as part of the MEDUSA exhibition. Conceived in the form of a triptych, the portable "tabernacle" conveys Vernon's philosophy of the boudoir – a ritual and sacred space dedicated to the sexual ceremony. The luxurious, leather bound, Italian hand crafted jewel case is an interface for sensual exploration and contains over 30 Paradise Found Fine Erotic jewels and Jewel-Tools. The Boudoir Box measures 69 x 33 x 19 centimetres and a sterling silver locket keeps the collection under lock and key. The Boudoir Box is an exclusive collectors piece. It was initially designed in 2000 and served to transport and display Betony Vernon's Paradise Found Fine Erotic jewelry and Jewel-Tool collections. Helmut Newton was scheduled to document its existence for The New York Times in 2004 but as a result of his fatal accident, the meeting was cancelled. The Boudoir Box has since become a mysterious object of desire seen by few.
MEDUSA gathered more than 400 works – by artists such as Meret Oppenheim, Man Ray, Calder, Dali, Picasso, Fontana, as well as pieces from Victoire de Castellane, Van Cleef & Arpels, Cartier, ethnic pieces and contemporary jewelry.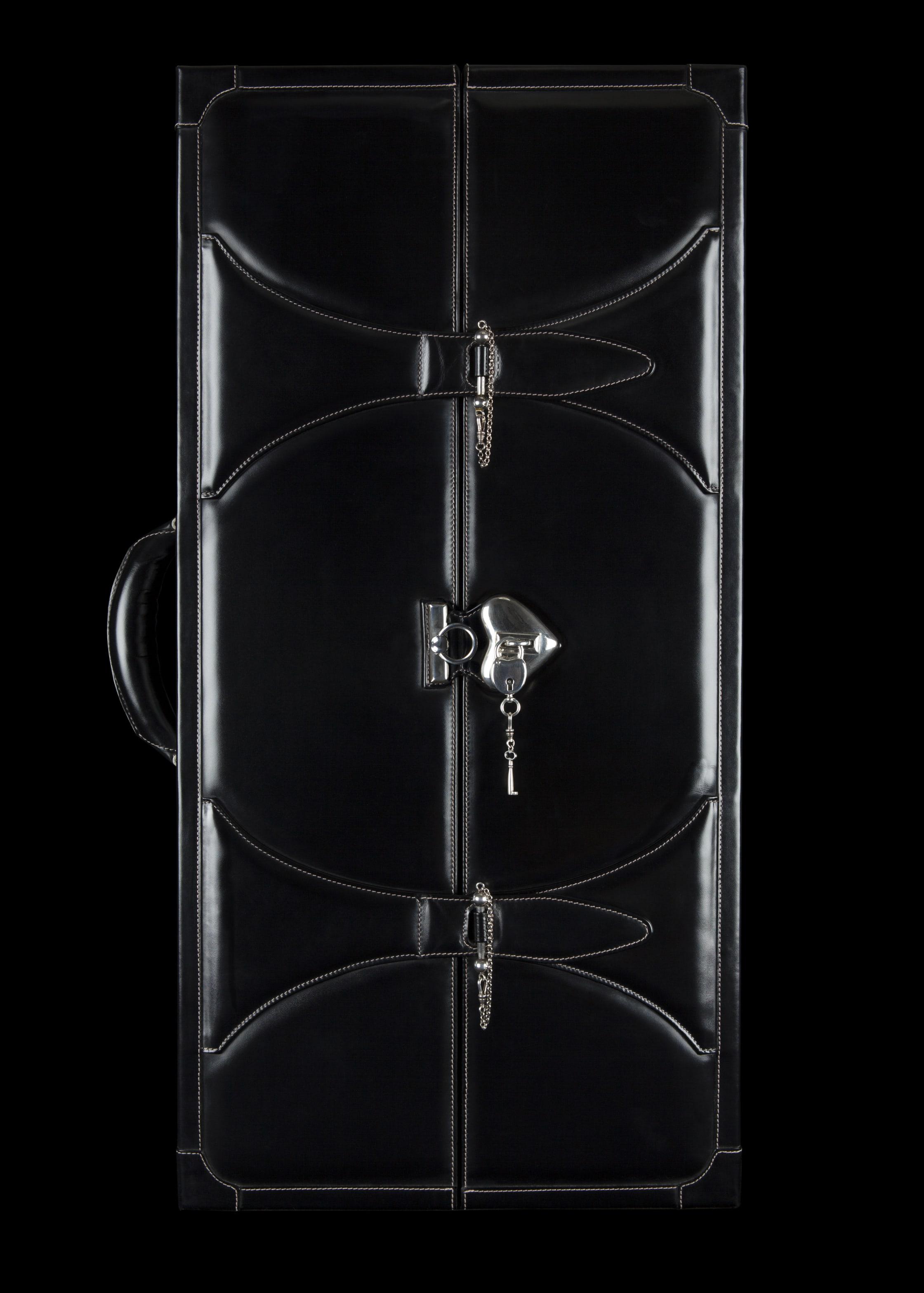 BoudoirBox
69×33×19cm
Sterling Silver, leather & feathers
1999-2018
Edition:10
A HAPPENING DESIGNED AND ORCHESTRATED BY BETONY VERNON FOR THE MUSÉE D'ART MODERNE, PARIS
The Theta Frequency Rig is the result of over 20 years of research on the effects of constraint and partial or total suspension of the human body. The Theta Frequency Rig is a collapsible structure in blackened steel and brass that allows Betony to perform her bodyworks beyond her dedicated atelier in Paris.

The Theta Frequency Rig measures approximately 3 x 2.5 x 2 meters. The free standing structure supports 11 leather "slings" that are attached to the structure via bronze pivots that terminate with a brass ring. The leather slings permit for the partial or total suspension of the body at approximately 1,30 meters from the ground. At this height, Betony remains in contact with the subject and guides them verbally and physically into the Theta state.
The subject is free to move inside the slings until they find, with Betony's assistance, the most comfortable position. Once the full horizontal position is attained, the subject's mind automatically becomes increasingly calm and their body relaxed. This normally occurs within 2- 3 minutes of being suspended in the Theta Frequency Rig. During this phase, the organs re-position themselves inside the body and now, unconstricted by bones and muscles at work, they begin to "float", much like the organs of an unborn child inside the mothers womb. The function of every organ is enhanced during the Theta Frequency Session. As the subject adapts to the changes that are taking place in their mind and body, they gradually abandon themselves and "let go", both physically and mentally. As the state of abandonment advances, the heartbeat slows radically and the subject's brain emits what is known as the Theta brain wave frequency.
Brain wave frequencies are the electrical impulses that are produced as our brain cells communicate with each other. They are measured, as are all forms of electricity, in Hertz. The brain fires these electrical signals day and night and they form what neuroscientists call brain wave patterns. These unique brain patterns are registered with Electroencephalography (EEG) in medical facilities. The various brain wave patterns are defined by our thoughts, moods, emotions, biological chemistry, etc. and they are essentially connected to everything that we do and are! When we are in a normal waking state, the brain oscillates between what are know as the Alpha and Beta brain wave frequencies. The Theta frequency is emitted by the brain when the mind is calm and the body relaxed. The Theta frequency is registered before subjects fall asleep, or in the initial stages of waking. It is also registered during hypnosis, deep meditation, yoga, trance and none other than the orgasm itself. When the Theta brain wave frequency is emitted, the brain essentially takes a break, even though the body may be in action, for example in the case of yoga or orgasm.
The Theta brain wave state has been described as otherworldly. It can generate flashes of creative visualization and vivid imagery, the sensation of floating, and the impression that our body boundaries melt away. The emission of the Theta brain wave frequency instills a trance like state that imbues the subject with a sense of wellness, awareness and calm. Betony's subjects also correlate the after effects of the Theta Frequency Sessions with heightened insight and intuition, enhanced creativity and a greater sense of openness and connection to other people. During the Theta Frequency Session Betony aims to induce all of the benefits mentioned above, as well as to therapeutically tap into the subconscious of her subjects.
During the Session, the Theta brain wave frequency emission is induced in only a matter of minutes. Anyone taking part in the related intervention will also vicariously benefit from the positive effects of the session.
BETONY VERNON, ANTHROPOLOGUE SEXUELLE
L'artiste américaine explore le plaisir des sens grâce à des bijoux et des objets érotiques. Certains sont visibles dans l'exposition « Medusa » au musée d'Art Moderne, où elle fera un happening, le 28 septembre prochain.
Pouvez-vous nous parler de la Boudoir Box, cette malle en cuir dans laquelle sont exposées une quarantaine de vos pièces…
C'est la première fois que je la dévoile au grand public. Je l'ai conçue il y a 18 ans pour faire voyager mes collections avec élégance car à l'époque, aucune boutique ou galerie n'osait proposer mes rosebuds, suspensions, dildos, fouets et autres accessoires de bondage. En voyage, ma Boudoir Box a provoqué tant de situations insolites que je pourrais écrire un livre ! Je n'ai qu'un seul regret dans ma vie : qu'elle n'ait pas été photographiée par Helmut Newton comme il le souhaitait pour T Magazine. Sa santé l'en a malheureusement empêché… Aujourd'hui, je ne voyage quasiment plus avec elle car depuis le 11 septembre c'est devenu compliqué et j'ai un showroom à Paris, où je reçois sur rendez-vous.
Vous vous définissez comme une anthropologue sexuelle…
Pourquoi y a-t-il autant de tabous liés à la sexualité alors que nous en sommes tous le résultat ? Ma mission est surtout de lutter contre celui lié au plaisir. J'œuvre à révéler les sens notamment au travers du rituel, notion essentielle séparant le profane du sacré, l'ordinaire de l'extraordinaire. Je me définis comme un designer industriel. Mes bijoux s'inscrivent dans une démarche globale tout comme les meubles et les intérieurs que je dessine. En ce moment, je travaille sur un service de table et sur le prochain restaurant d'un chef étoilé. Je rêverais de dessiner une voiture !
Quand cette « mission » a-t-elle commencé ?
Le jour où je portais une manchette munie d'une chaîne reliée à une bague et que j'ai glissé cette dernière au doigt de mon ami. Le courant électrique alors déclenché entre nos deux corps m'a donné l'idée de la première collection « Sado-Chic », en 1992. J'ai ensuite organisé des salons à Londres, chez Soho House London et Coco de Mer. Lors de ces réunions de quarante personnes, j'explore la façon d'utiliser les objets, les savoir-faire et la créativité nécessaire à une relation. Sinon elle s'étiole, c'est biologique : le corps s'habitue aux odeurs de l'autre. J'ai ensuite écrit La Bible du Boudoir traduit dans sept langues et vendu à 90 000 exemplaires. Il est disponible en e-book mais c'est surtout un livre de chevet à garder à portée de main.
Ce sont des objets très luxueux…
En argent et en or parfois pavés de diamants, ils ne sont pas de ceux qu'on oublie sous un lit ! Certains sont en édition limitée et numérotée. J'utilise des plumes de paon ou d'autruche, de l'argent repoussé pour mieux appréhender un manche figurant le sexe masculin. Les cordes de la collection « Noble Knots » sont en or et argent tressés avec des microfibres grâce à une machine utilisée dans les années 1950 pour faire des bas.
Ces bijoux érotiques ne sont destinés qu'à l'intimité ?
80% des 400 pièces composant mes collections ont une double fonction. Certains contribuent au bien-être quotidien comme la bague « Sensual Spheres » : vous pouvez masser une épaule ou le front en cas de migraine. Introduites dans le vagin, les « Ben Wa Balls » permettent de renforcer le muscle après un accouchement. Et quelques-uns ne sont que décoratifs comme les boucles d'oreilles « Sado-Chic ». Angelina Jolie et Christina Aguilera sont des collectionneuses qui les portent ouvertement.
Vos bijoux ont été présentés à la triennale du design à Milan, au Victoria & Albert Museum et au MUDAC. En quoi consiste votre happening Theta Rig, au musée d'Art moderne ?
Ce qui n'empêche pas Instagram et Facebook de me catégoriser comme sex shop… Au sein d'une structure métallique munie de lanières en cuir inspirée par le bondage, je suspends un corps à l'horizontal pour le détendre jusqu'à l'amener à l'état theta. Un état dans lequel le cerveau produit des ondes comparables à celle d'un état de transe, de méditation ou d'orgasme. Le public pourra ressentir les effets de cette expérimentation physique et le vivre lui même, très bientôt.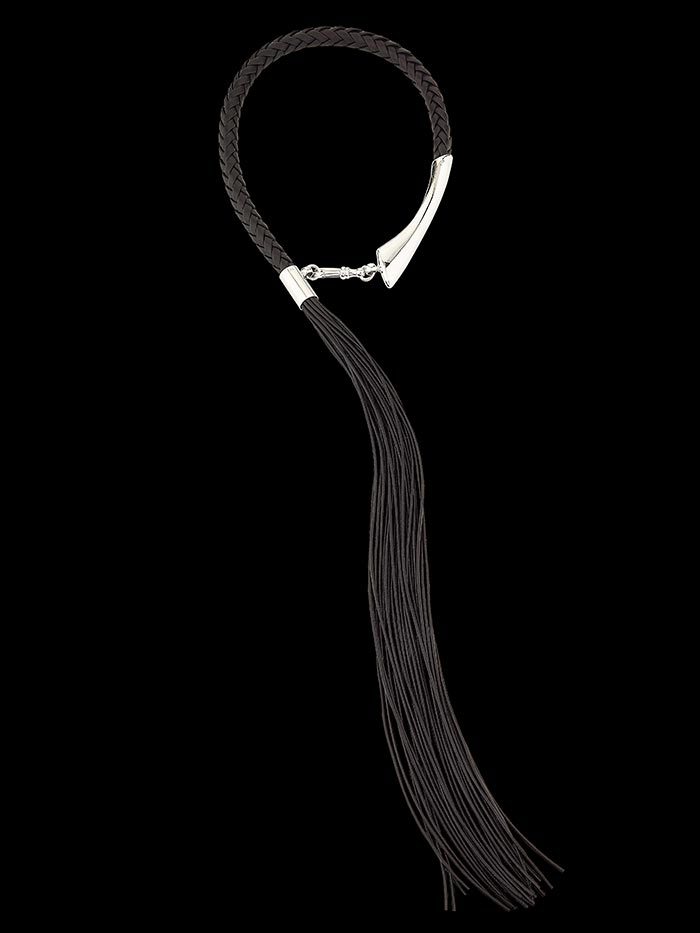 A PARIS BOUDOIR WHERE EVERYTHING'S MEANT TO BE TOUCHED
ON A BUSTLING STREET in Paris's Marais neighborhood, the gay enclave that feels symbolic of the city's free-spiritedness, there's a sober pair of 17th-century wooden doors. Once, they opened onto a space that belonged to a group of nuns. Now, though, they allow entry into the sumptuous and hushed sanctuary of Betony Vernon.

A designer of erotic jewelry, a self-described "sexual anthropologist" and the author of the candid yet refined 2013 sex guide, "The Boudoir Bible," the 49-year-old Vernon is a jeweler turned sex educator. She holds sessions in her private home studio in which she helps clients find erotic awareness through a combination of talk therapy, movement and occasional treatments in the nine-foot bronze, steel and leather swinglike contraption that hangs from the ceiling of her basement. A client climbs in and is suspended horizontally four feet above the ground for 25 minutes — Vernon, a certified medical hypnotist, uses this version of her "theta rig," which she designed, to ease the person into a meditative "theta state," the brain-wave frequency reached during yoga and orgasm.

Vernon, who moved to Europe from Virginia in 1990, believes that Western culture no longer has many taboos around sex, but "rather a taboo against pleasure." Her three-floor apartment, a sensual mélange of velvet and leather, is a rejoinder of sorts: a design manifesto for aesthetic pleasure, both visual and tactile. Entering it from the row of beige-stone facades on the street is like cracking a plain gray rock and finding a sparkling geode inside; you can't quite believe this treasure is nestled in the workaday heart of a city.
"It's my little Eden in the center of Paris," Vernon says, referring to the central garden onto which the apartment looks. Eden is also what she calls the first-level salon, where she receives clients for bespoke jewelry fittings. With its black carpet strewn with pale-green faux leaves and forest-green velvet curtains that shroud the windows completely, the room feels like the plush interior of a jewelry box. In a sense, it is. Here, pieces of Vernon's "sado-chic" erotic jewels, as she calls them, referring to both their ornamental and amorous functions, are displayed in backlit vitrines like works of art: a sterling-silver cuff with a detachable feather tickler, an equestrian-inspired necklace that can be worn as part of a harness.
Of the black-and-green scheme she chose for the room, she says: "I wanted to do a color that was unisex, that made everyone feel comfortable, and I thought green was good, because it's the color of trees." The natural world and its palliative force is further evoked by a lime-green velvet Gio Ponti chair that vaguely resembles a pea pod, and a black velvet Mark Brazier-Jones chaise longue with silver steel satyr feet. Two Fornasetti pieces — an ocher-hued commode painted with a prowling leopard, and a screen depicting a verdant forest in a dark night — complete a visitor's sense of being deep in a lush jungle.
But beneath Vernon's specific fantasy is another increasingly common one: the desire to leave behind the quotidian world and its pedestrian concerns, at least for a moment. There are no cellphones allowed in Eden (and no Wi-Fi in the basement level she calls Heaven, where she holds her sexual well-being workshops), and the functional aspects of life, like computers and printers, are hidden from view. In the corridor leading to her studio, where she prototypes her designs (which are produced by artisans in Tuscany) she has hung a black leather curtain that allows her assistants to stash their clutter at day's end. "I don't like to look at work things," she says. "Offices are never attractive."
VERNON ADHERES TO this cloistered philosophy in her living quarters as well. In the retro-pink kitchenette — a pale, matte, '50s-era shade she chose because she wanted the room to feel like a "boudoir kitchen" — all of the appliances slide behind wooden doors. Her inspiration here (and elsewhere in the 1,200-square-foot space) was the snugly efficient design of yachts: "A lot of the furniture is built-in and customized to get the most out of every centimeter I had at my disposal."
When she purchased the townhouse in 2007, it was actually far smaller. Only the basement and the room where Eden now is were hers. She was living in Milan, where she'd obtained her master's in industrial design and founded an atelier, commuting back and forth to Paris. But in 2011, when the adjacent apartment became available, she bought it, renovated the kitchen and hired local craftsmen to restore the original parquet floors and carved wood spiral staircase.
On the top floor, Vernon created a cocoon-like suite for herself in rich, ultra-feminine pastels. There's the sitting-room library, with its book-lined lilac walls and plum-colored Nigel Coates divan. There's the bedroom, padded entirely in leather of the palest ballet-slipper pink and lit only by crystal-and-metal Mark Brazier-Jones fixtures — a kind of sealed-off sensory-deprivation chamber. "I padded everything, including my blinds on the windows," Vernon says, "so when it's closed up at night, it's very quiet and safe-feeling." And finally there's the "wet room," lined in dusty-rose and purple Moroccan cement tile, where Vernon installed the most capacious two-person tub she could find.
The solitude and restoration these rooms offer are vital for her, because back downstairs in Heaven, the fourth-century vault that is the oldest part of the building, the work Vernon does with clients is intimate, delicate and intense. This room is dominated by her "boudoir box," a two-foot-tall black leather case, where 21 of her "jewel tools" and up to 80 pieces of her Paradise Found fine-jewelry collection are kept under lock and key. Vernon created her own series of implements — collars, massage rings, tassels, whips — after years of frustration with sex toys that, as she puts it, "satisfied neither my lust for quality materials nor my sense of aesthetics." The box is one in a limited edition of 10 that she designed 18 years ago (when major luxury retailers were still reluctant to carry her work), so that she could travel with her tools to clients. Since May, an entire set has been on display at the Paris Museum of Modern Art.
"The box gets opened, and it transforms the room," Vernon says. It is the showpiece of the small cavelike space, surrounded by a bio-ethanol fireplace and leather seating that can be separated into various components to accommodate up to 15 people. "I do my interiors like I do my jewelry," Vernon says. "A piece cannot just be beautiful. It must also function."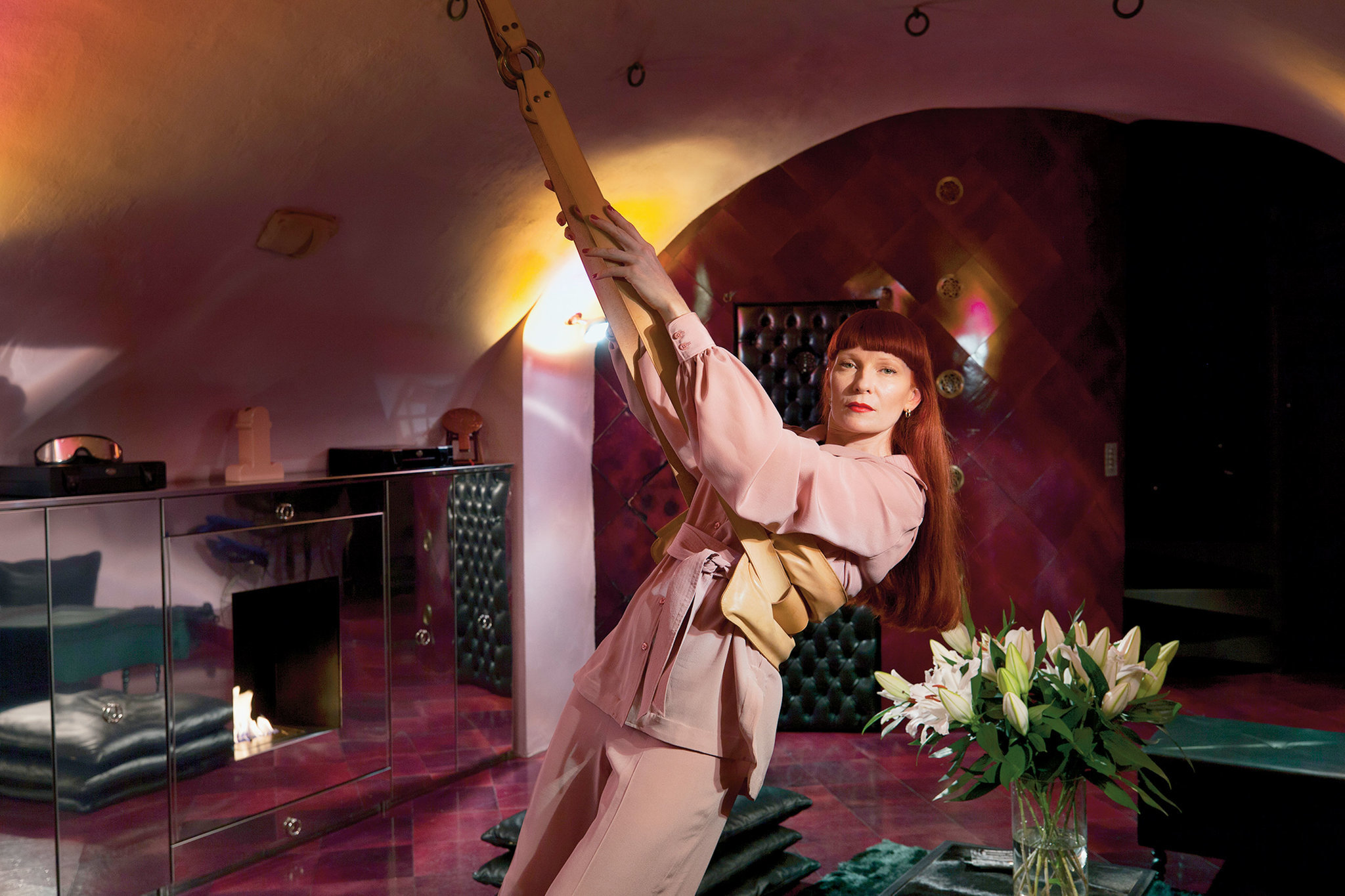 Photography by Thibault Montamat
BETON VERNON FETISHIZES FINE JEWELERY
The intrepid designer's erotic Boudoir Box makes its first public appearance.
Jewelry, like fashion and art, has the innate ability to elicit emotion. Taking this notion beyond like and dislike, erotic fine jewelry-maker Betony Vernon imbues her designs with the power to provide intense sexual and sensual pleasure. This year, the self-proclaimed sexual anthropologist celebrates 25 years of her storied Paradise Found collection and the first public unveiling of her legendary Boudoir Box, now on view at the City of Paris Museum of Modern Art's "Medusa" jewelry exposition through Nov. 5. The sleek, handcrafted leather case, full of Vernon's arousing "jewel-tools," previously viewable only by appointment, has been under lock and key since its inception nearly two decades ago. Surface sat down with the doyenne of desire to discuss sex positivity, the evolution of her craft, and her sudden leap into the public eye.
How did the Boudoir Box come into existence?
I designed it nineteen years ago in Paris. At the time, there was a negative response from buyers and retailers to the idea that jewelry could have a sensual purpose. There wasn't a single retailer in the world that was a candidate for what I was doing. People said I was crazy, but I felt that I had an obligation as a designer to make daily life better and our sex lives seemed to be ignored at the time.
So without retailers, how did you sell it?
I quickly understood that I would have to go directly to my clients, so I started to travel with the box in 1999. It allowed me to reach a special clientele, in a private way. I would receive clients for four days, normally in hotel rooms, and take private orders. I handled it that way up until 2004, when I built my first space in Paris for reception. I kept the box private for clients.
You've decided to share it with the public for the first time, at the "Medusa" exhibition at the City of Paris Museum of Modern Art, this year. Why now?
I think that now, more than ever, we need to expand our sexual horizons. We have to be careful about our sexual freedom because it comes in waves. We're in a time of apparent freedom. I see every day the [negative] reactions of people to my work and I deal with censorship constantly for no reason. Although I feel as if I'm standing there naked [with this exhibition], it's time for me to be fully in the light.
Why is "Medusa" the right format for its unveiling?
The Museum of Modern Art takes risks constantly, and it's not known for taking on the easy show. And because this unveiling is institutional, it feels safe to me. The museum helps me to further the idea that sex, art, and aesthetics all go together. They're all a part of every one of us. That we continue to have to fight for our bodies and the right to make love, it's so awkward, no?
Where did your interest in eroticism come from?
It started very young. When I was fifteen I would find boxes with erotic magazines at garage sales. Some of my favorite finds were issues of Bizarre by John Willie. I was in love with the women in his illustrations with their gorgeous lingerie, bullet bras, gloves, stockings, and fuck-me boots. Finding Bizarre magazine was a turning point for me. At sixteen, I looked like a pin-up that had walked out of a John Willie illustration. It never left me as a vision of an empowered woman.
It seems that your mission is to sexually empower men and women, and to promote sex positivity.
Absolutely. One of my goals is to dismantle the pleasure taboo. There isn't a sexual taboo anymore. Sex is everywhere. For example these apps that makes sexual opportunity like going onto Amazon and buying whatever you're looking for. It's not healthy. It's like fast food. Fast sex and fast food: They make you hungry for more, and you keep going back, but you're not getting the nutrition or the pleasure you deserve when you treat sex like a consumer product.
Why choose fine jewelry, which is a largely prim category of decorative arts, as the medium to accomplish that mission?
The jewelry is aesthetically pleasing and non-toxic, so it became a way for me to bridge the taboo with know-how and understanding. A lot of what is designed to be put inside of our bodies is very toxic. Silver is antibacterial. It's durable and easy to clean. If you own one of my objects for penetration, you're never going to throw it away. It's something that elevates lovemaking to an art.
What do you hope viewers will take away from seeing the Boudoir Box at "Medusa"?
I hope that they can shed the tendency to categorize things. I hope that they can say, "Oh wow, there is beauty in an object of penetration that's made in silver. What can it do? How would it feel?" If nothing else, I can nourish curiosity and curiosity is what drives us to experience life to the fullest.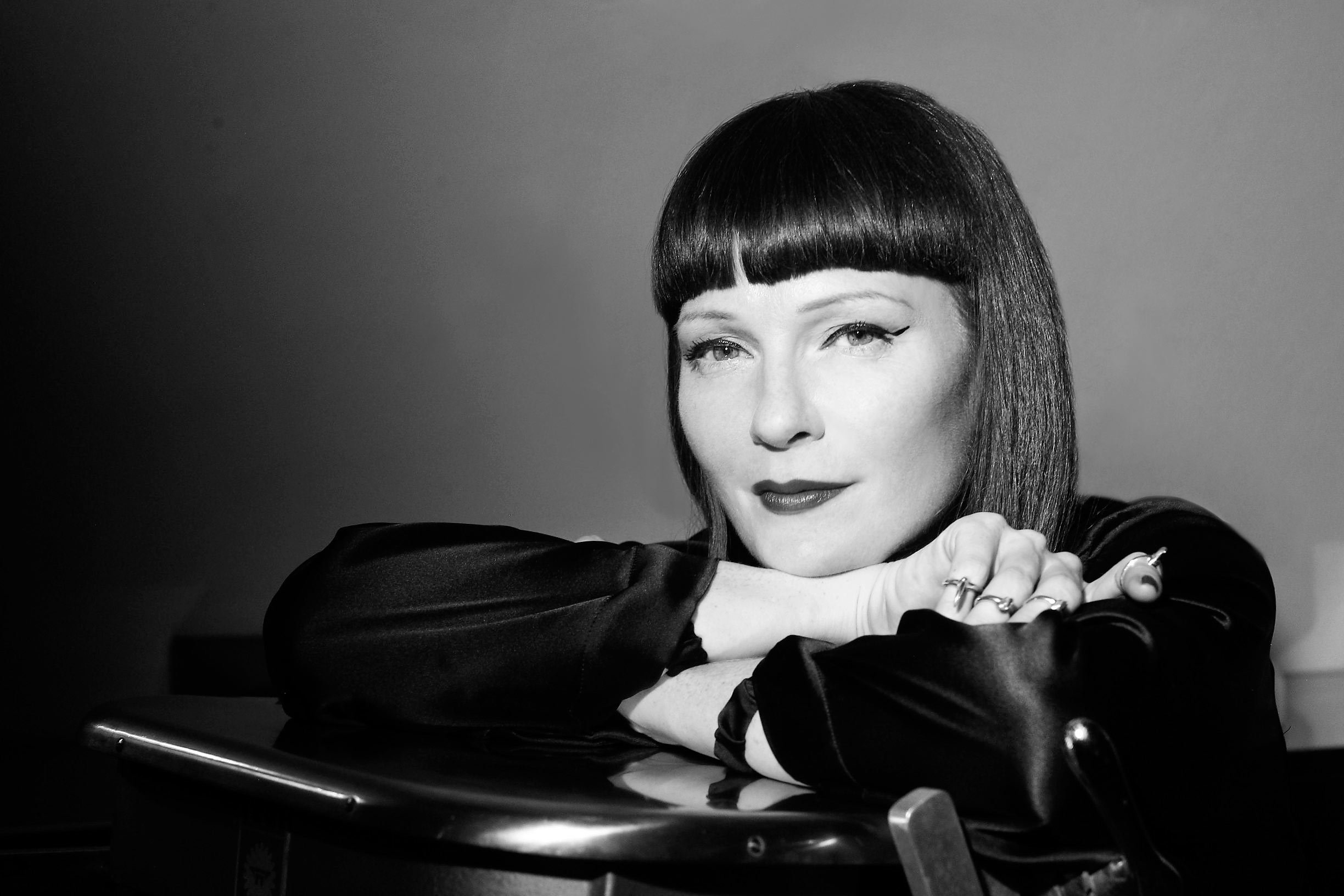 Photography by Raul Higuera

BETONY VERNON PULLS BACK THE CURTAIN AT PARIS' MUSÉE D'ART MODERNE THE OFT-MISUNDERSTOOD MAKER OF CHIC EROTIC JEWELRY DISPLAYS HER PIÈCE DE RESISTANCE
Giving credit where credit is due isn't exactly one of the fashion industry's strong suits. On occasion designers may reference another designer that served as influence (Marc Jacobs has regularly cited peers such as Martin Margiela and Rei Kawakubo of Comme des Garçons). After covering jewelry for over thirteen years, rarely if, ever was influenced from another designer cited. At a recent meeting with Betony Vernon, a maker of high-end objects of pleasure and jewelry designer whose work features studs and spikes, it was clear whose influence has been pulsing through jewelry for the last few years. Designers such as Eddie Borgo and Riccardo Tisci have knowingly or not, been guided by her concepts.
Vernon's philosophy of jewelry that interchanges and has a purpose beyond just adorning the body but also pleasing the body, started 25 years ago. The pleasure-minded designs proved to be too risqué for even seemingly open-minded retailers of the fashion world, so Vernon had to pioneer a path delicately crafting the message about her brand which could easily be misconstrued. Body-chains slash necklaces, choker slash collars, rings slash erogenous zone stimulators and other objects used during intercourse were hard pressed to earn a spot in the display cases of tony department stores. To get her "sado-chic" pieces of jewelry to market she did so by mainly building up a private clientele by word of mouth in the pre-internet era. "At the time, it wasn't really accepted that a sexual object could also be beautiful." After the events of 9/11 Vernon shifted her design mission and dropped the more "mainstream" pieces of her jewelry and decided to focus solely on the pieces meant for erotic stimulation.
Vernon also recognized that she was going to have to teach the use of her wares that were easily classified as S & M tools. She became an erotic educator so to speak holding didactic salons at Soho House London and at Coco de Mer, a female pleasure shop in London that according to the Virginia native was "pioneering in that it was chic and not in a dangerous part of town." Reportedly, Fifty Shades of Grey author E.L. James regularly attended the classes. The salons ultimately led to her book which she crafted over the course of five years called "The Boudoir Bible" becoming the only textbook that Rizzoli has published to date.
Coinciding with her 25th year in business, her greatest creation to date, The Boudoir Box, will also be featured in an upcoming museum exhibit called "Medusa" at the Musèe d'Art Moderne that questions our relationship to jewelry both conceptually and physically. "It took me a moment to say yes to the exhibit but I decided I was ready to bring my work into the light" said Vernon who had shown other works in the Triennale di Milano and Biennale Venice. This is the first time the box will be on display for the public; it was shot by L.A.-based photographer Jeff Burton along with Vernon in the Turin-based house of Carlo Mollino, the mysterious Italian architect who left behind a secret stash of Polaroids featuring women in erotic poses. This is the first time they have been published.
"MY CLIENTS ARE SOPHISTICATED AND THEY INVEST IN THEIR SEXUAL HEALTH"
Originally Vernon used the box to house her selection of sexual wares that she carried to in-person client meetings, sort of like the Avon lady calling but only for high-end pleasure objects. It houses over 30 items such as ostrich feather ticklers and petting rings designed for mental clarity and focus during sexual play. Other objects include dilettos; vaginal and anal tools used as pre-act preparation, as well as clamps and leather lariat chokers. One key philosophy that motivated her designs was also the quality of objects meant to be inserted into various erogenous zone orifices. "My clients are sophisticated and they invest in their sexual health" explaining the reasoning behind her use of sterling silver and 18K gold. Her custom designs have also helped clients with scars and/or amputees like Amy Mullins to both decorate and disguise injury.
Vernon is hyper-aware of her ability to be mislabeled and in fact, supplies journalists such as myself with a list of do's and don'ts when it comes to verbiage. Even in matters of communications, Vernon's line of work relies heavily on trust. Upon visiting Vernon's atelier Eden, which opened in late 2016 in the 4th arrondisement in Paris to interview her, about twenty minutes into it she felt that I could be shown the private room downstairs.
VERNON IS HYPER-AWARE OF HER ABILITY TO BE MISLABELED
It does not surprise me that I was deemed someone who got it, but for the record my foray into a "lifestyle" doesn't expand much beyond my penchant for wearing leather and spikes. (Though this one time during my 1980's club-kid heyday, I caused quite a ruckus at an S&M club called the Vault that sat under the current space of Dos Caminos Meatpacking. Quite inebriated, I was along for the ride with friends and slumped over a barstool. When I looked up I was surrounded by a group of men looking for some sort of punishment. I found slinging insults at them to come naturally and apparently, I was good at it because the manager had to break it up at some point. Ah the path less travelled.)
"I'M NOT ABOUT PAIN OR TORTURE. I'M INTO PLEASURE"
I'll admit I was a tad apprehensive as we slinked down the circular stairs to her "cabinet de curiosité" as Vernon refers to it. But rather than being shocked I was amazed at the chicest romp room I had ever seen. On display was the kept-under-wraps until now Boudoir Box; a bust mannequin form modelled after Dita Von Teese's shape while being corseted by the famous Mr. Pearl; a leather equestrian "sex' chair designed by Mark Brazier-Jones that resembled a gymnastics pommel horse. A large leather sofa and exposed brick wall with a gas fireplace housed between polished stainless steel cabinets that act as mirrors gave it the feeling of a super-stylish suburban media room. Not a dangerous scary place at all. Vernon's mantra is about shedding light onto the oft-tabooed subject of sex. "I'm not about pain or torture. I'm into pleasure; I mean the clitoris serves no other purpose than to bring pleasure." Goal achieved Betony Vernon.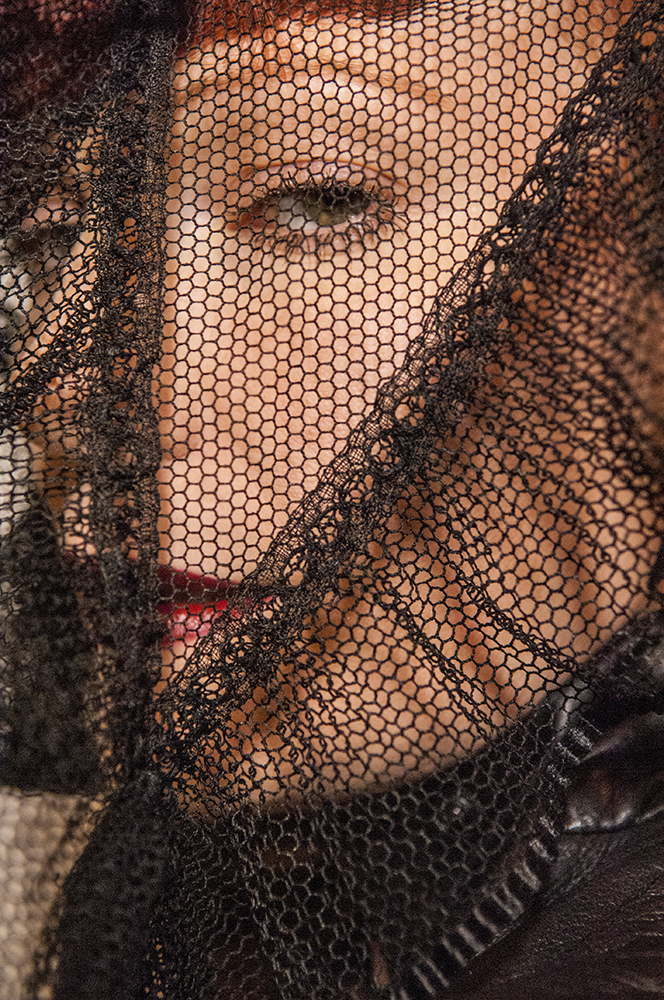 Photography by Jeff Burton
BETONY VERNON HAS MADE A CAREER OUT OF HER EROTIC JEWELRY
Erotic fine jewelry designer and self-described sexual anthropologist Betony Vernon uses the word "tools," never "toys," when referring to her designs. She is a businesswoman, first and foremost, which means she has a clear vision of her brand. She attributes this to knowing exactly who she is and what she wants, and by refusing to stray from her mission: educating adults about sex and empowering them through pleasure.
I first met Betony during Paris Fashion Week in the space where she works one-on-one with her private clients. Eden, as she calls it, is a handsome room that's just dark enough for your eyes to comfortably adjust and your voice to fall to a whisper. It seemed to hum with a frenetic, sexual energy. It was like a museum that encouraged its patrons to engage with the art hands-on. Fine jewelry was mixed in with the erotic pieces: rings and necklaces, earrings and cuffs, some meant to be worn as simple jewelry, others dual purpose, each inextricable from the brand's sensual nature. It was a press appointment unlike any other. It's one thing to meet someone who has good ideas. It's quite another to hear how she executed them — especially when the initial response was, "You're crazy."
When she came to New York for a presentation at Dover Street Market, I had to interview her.
How did you get started?
I'm coming up on my 25th-year celebration of erotic jewelry, design and sexual being. I've been designing jewelry since 1986. At the age of 20, I moved to Florence. I began to teach jewelry making in a university-based program in Florence for UCLA and other colleges who do study abroad for American schools.
I didn't really know what I was getting myself into. I was young, I was naïve and I thought, "This will be my contribution to the jewelry world," putting a sexual power or sexual possibility, or erotic possibility, into the many facets of jewelry. Jewelry is the most intimate thing we can put on our body, so why not get really intimate, in the literal sense of the word?
What was the catalyst that took you from having an interesting idea to acting on it?
I was sitting in a restaurant with a friend. I was wearing my Sado-Chic Kit, a bracelet attached to a ring with a chain. I passed the ring that was on my finger to my friend, who put it on his finger, and I felt something, like a charge. I felt very connected to this person — more so than ever before — and I had an epiphany. I said to him, "Can you feel it?" And he said yes. No one had more power than the other, [we] were just connected. So that was the realization.
I expanded my erotic jewelry collection and, by 1996, was selling to private clients. One of my top clients for fine jewelry had been Barneys New York. When I showed that bracelet with the attached ring to the buyer, I gave her the same experience, and [judging by her shocked response] I realized I had touched some interesting territory. I understood then that it was a bit early, and that what I was doing was ahead of its time, so I kept working for private clients. After September 2011, I began to focus exclusively on what I had come to call the Paradise Found Fine Erotic Collection.
I went to Paris for sales and didn't bring any of the pieces I'd been designing for the past 10, 11, 12 years. I just took my erotic jewelry with me…and I lost all my high-end fashion retail clients. I had another epiphany. I realized that if I was going to continue to design my erotic collection, I had to become an educator.
Everybody said, "You're crazy." I plowed ahead. I started hosting sexual well-being salons and continued designing for private clients.
What made you keep going? What fueled that drive?
A big part was my own personal needs. My work in the '90s — and my work today — is a response to the erotic market. The idea of putting plastic inside my body was disturbing. I discovered in my research that a lot of the soft plastics used in the industry aren't body-safe. Durability was a huge issue. The objects I work with that go inside the body are all in silver. Silver is naturally anti-bacterial so it's clean and it's easy to clean. As much as these are objects of pleasure, these are also objects of well-being.
There's the aesthetic element, too. At the turn of the century, there was a vibrator boom. I was looking at vibrators thinking, "They look like children's toys, no?" I do believe that we should keep the spirit of play, but I don't want a hot pink rabbit or an electric blue dolphin inside of me. Sex is something that only adults should be doing, so I proposed an aesthetic for adults who want to have more sophisticated and durable options.
I have never done anything but embrace my own pleasure, and I didn't understand why everybody else wasn't embracing their own pleasure, too. The whole body is a sexual organ if we use it that way. It's a question of knowing that, understanding the body and understanding how to do it. My book, The Boudoir Bible, explains all of this. Men were told for 2,000 years that they were more sexually evolved. But today we know that's not the truth. That's exciting because there's a movement happening. I mean, you're sitting in front of me, tranquilly, having this conversation with me, which may not have always been the case.
That was going to be my next question. When did you start to see a shift in attitude, and what do you think shifted it?
I decided to become an educator. I didn't really have a choice. Either I educated my future clients, or I didn't, and I wouldn't be where I am today, on this lifelong path, if I hadn't. I know this path is going to be mine until the day I drop, which is great.
It was also thanks to some very special and bright people in media. If it hadn't been for the support I received from fearless women who went forth and said, "Hey, I want to talk about this in top-tier magazines around the world…" They found their angle, you know? That started happening around 1995.
How has the internet played a role in the success of your business?
It's so important for my world. When I started, there were zero retail opportunities for me. That's why I created my erotic luxury travel case, the Boudoir Box. I became a traveling saleslady. Then Coco de Mer opened in Covent Garden, which was the first erotic retail space "safe" to go to. I was going to sex stores in the '80s and '90s, but they were always on the wrong side of town. You wouldn't even dream of going to those places unless you were on a mission, like I was. When Coco de Mer opened, women could [more easily] go shopping for their sex lives. It was also a luxury environment.
The internet has provided greater access. I have a lot of people coming to me through the internet now who have very specific desires. Sometimes they want to have a bespoke object made or a talk therapy session, and sometimes they want to experience the body-work therapies I have developed over the years. This takes place in my private salon, Eden, in Paris. The internet is amazing because it provides a private space in which to explore my work and it also allows me to explain what a salesperson in a classic retail venue may feel inhibited to talk about.
Can you tell me more about what your work as an educator looks like
I work privately with a lot of women who seek me out because they're not finding their pleasure. We have to understand the body and learn to celebrate it.
There's still a lot of fear around sex. There really is no "safe way" to have sex, but we can have safer sex, more intelligent sex and not shut down. In terms of orgasm and female orgasm, I believe the only way to open those doors is to feel free to do so. I give a lot of permission. A lot of my work hinges on giving permission to people and shedding the detrimental effects of shame.
People feel guilty because they had sex, because they hooked up, because they had anal sex. Guilty, guilty, guilty. The incredible thing about shame is it's something that you carry inside. It's a pleasure inhibitor. My breakthrough work here deals with motion. I don't just sit there and talk to you, I work with the body, I work with hip releasing, with all sorts of things that allow the body to actually speak to us. I want you to find your pleasure, whether you're a man or a woman. It's not just a female problem.
What do your business conversations look like now that the attitude around sex is changing, the attitude around what you do is changing, now that there's more education surrounding your industry?
This year I'm completely standing in the light. I've shed all fear. I've got nothing to hide. I'm able to actually communicate about what I do today, which is exciting, not just to those within the fashion industry, but also the design industry, the art world. I'm exhibiting my Boudoir Box at the MEDUSA exhibit at the Museum of Modern Art in Paris.
The business aspect is interesting because as much as we've moved forward in this sexual arena, there still aren't many stores that can handle my work. There are brave entities, of course, like Dover Street Market, but catering to retailers is not my focus. My focus is my online business. I know that people who are looking at my work want to do it with intimacy. I'm working on a section of the website that's for collectors only, so I'm able to represent some of the things that I prefer not to put on the front of the website. I want also to be able to span age groups. There are a lot of young women who follow me and who are interested in my work but maybe can't afford it today, so we're talking about what an entry-level price point product might look like, and where it would live.
What sort of advice would you give to someone who wants to start her own business?
Respect what happened before you, know your history and do something fresh. You have to trust yourself. And that's what I'm helping people to do: to discover who they are at the root, being okay with that, stepping out of the social demands. The fact that I'm a woman who wanted a divorce, who didn't want kids so I had my fallopian tubes tied — people think I'm crazy when I tell them this. As a young designer, it's important to look around you for the things that need to be changed. Ask, "How can I make the world a better place?"
I invite people to think outside of the box. Look and see what needs to be fixed. That's what I did. I believe our sexuality is an integral part of who we are, and if we can find a way to make that part of us balanced and well and resolved, everything else will follow suit.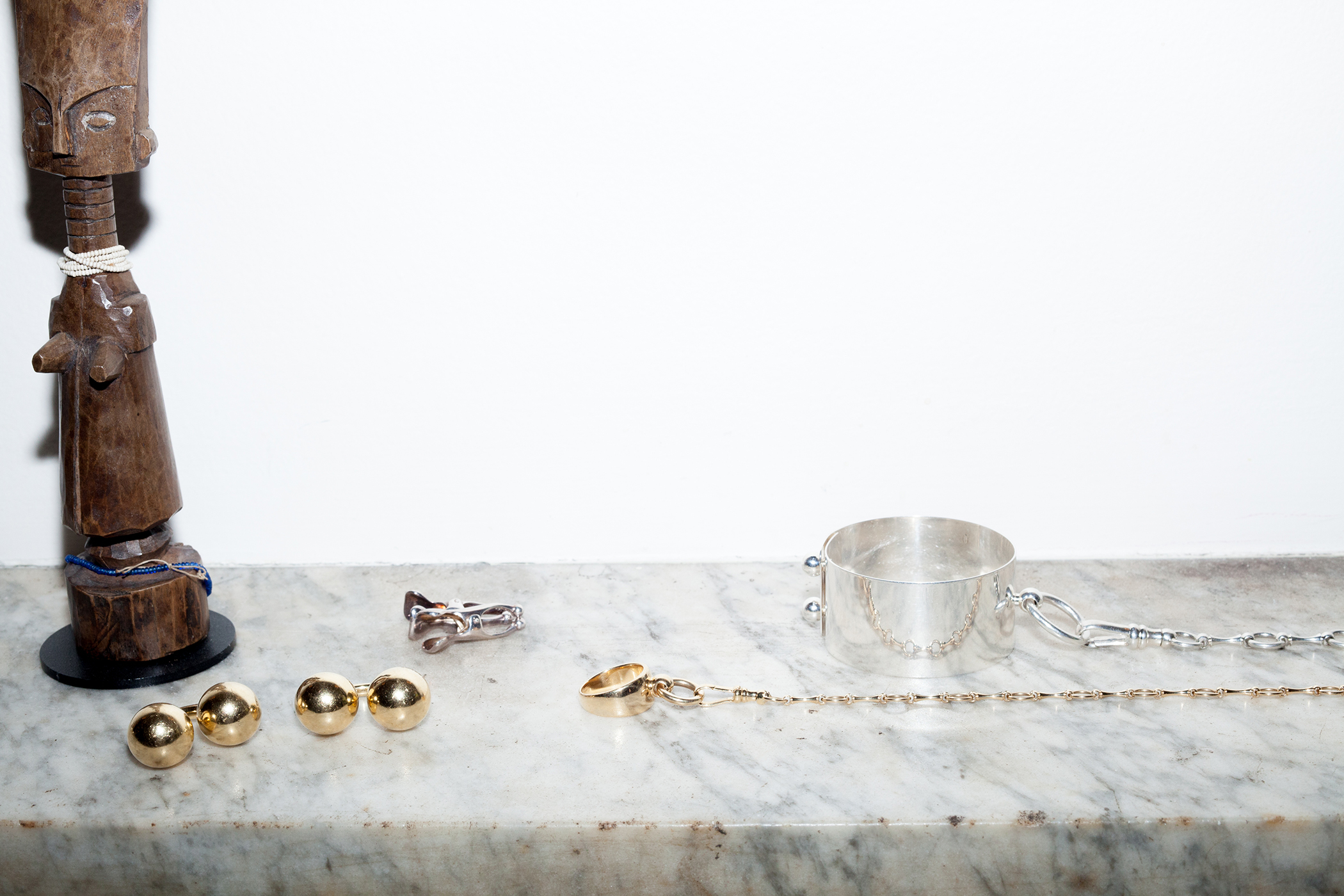 Photography by Edith Young
KAMA – SEX & DESIGN
Betony Vernon is an American designer who lives and works in Italy and in Paris. With a Degree in Art History and a specialization in metal smithing from Virginia Commonwealth University, she moved to Italy in 1990 where she obtained a master's degree in Industrial Design at Domus Academy (Milan) in 1995. Her works have been exhibited internationally in institutions such as the Victoria & Albert Museum in London, the Triennale in Milan and the Grassi Museum in Leipzig. Vernon has also worked with several design and fashion brands, including Missoni, Gianfranco Ferré and Fornasetti. Vernon's creative path shifted in 2002 when she decided to focus her attention on "Paradise Found" a collection of precious jewels that she had commenced in 1992. Dedicated to the senses and the sensuality of the body, Paradise Found instigated what Vernon describes as her vision to dismantle the pleasure taboo. In this regard Betony wrote her first book "The Boudoir Bible". Published by Rizzoli international in 2013, the book is now translated in six languages.

The Milan Triennale for the exhibition "KAMA: Sex & Design" presents the debut of Betony Vernon as a sculptor of marble. The exhibition features, in addition to some of the most famous jewels of Betony, the first sculpture of the designer, made of pure white statuary marble that was extracted from Monte Altissima. The Origin chair was made in collaboration with the Henraux Foundation (Quercetta, Italy.)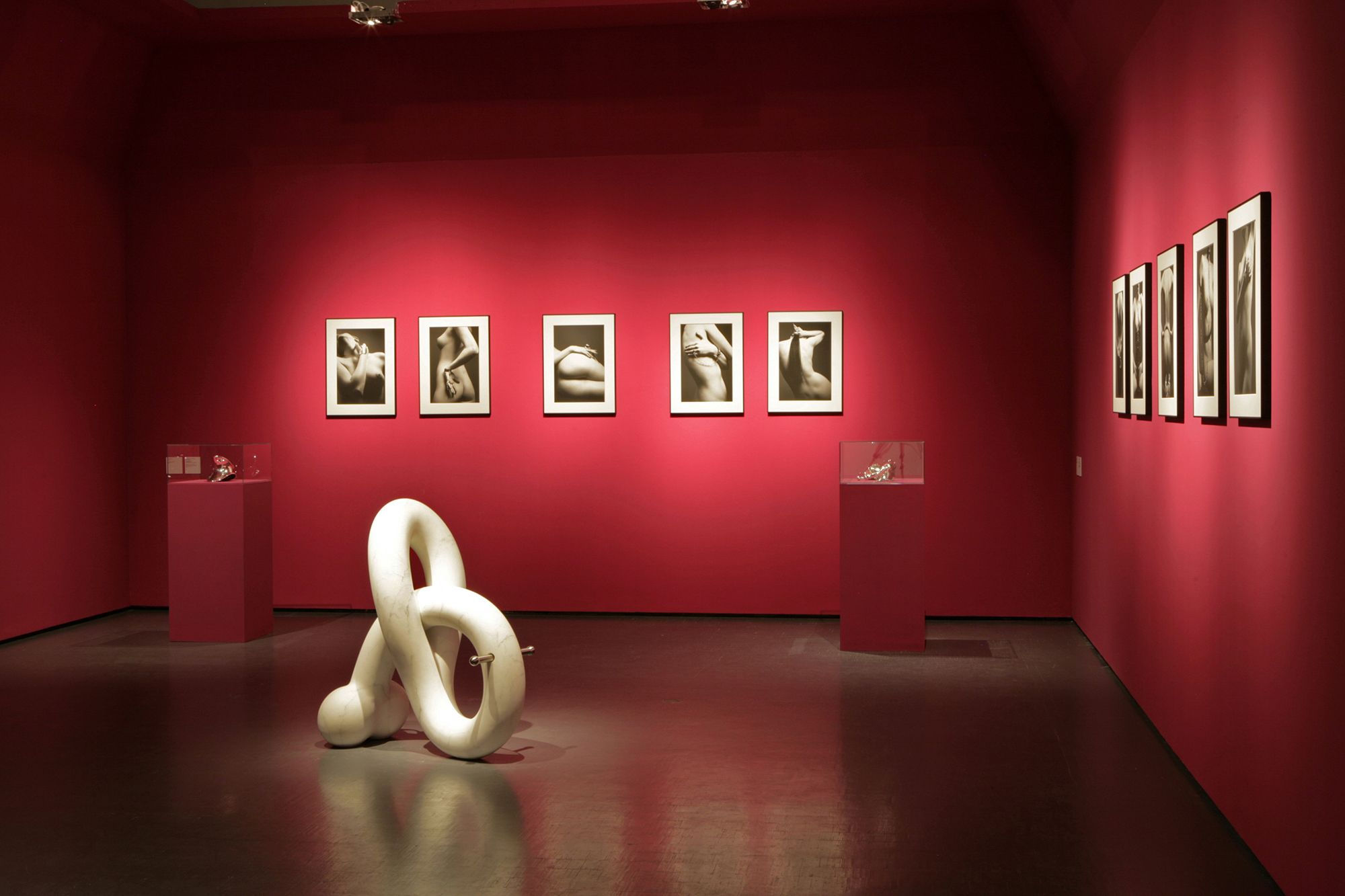 Origin Chair
Statuary Marble
56 x 105 x 112 cm
2012 - 2018 / Edition : 6
THE BOUDOIR BIBLE – BETONY VERNON
Armed with a selection of her beautifully crafted sex objects, Betony Vernon visited SHOWstudio to talk about her new book, 'The Boudoir Bible', with Lou Stoppard. The candid interview sees Vernon discuss her sex-positive stance and the extensive research behind the book, which offers an uninhibited guide to twenty-first century sex, including practices like rope bondage and erotic flagellation.
MUSEUM OF DESIGN AND CONTEMPORARY ART
The Origin Chair debuted in December 2012 at the Triennale Design Museum in Milan. Betony was granted a carte blanche by curator Silvana Annicchiarico for one of dedicated galleries in the exhibition KAMA SEX & DESIGN. The functional sculpture is currently part of NIRVANA, an exhibition that inaugurated in Lausanne at MUDAC (Museum of Design and Contemporary Art.) From November 2015 to April 2016 Vernon's carte blanche will be installed at the Gewerbemuseum in Winterthur, Switzerland.

Nirvana. Strange Forms of Pleasure is Switzerland's first international-level exhibition to be devoted to forms of pleasure in contemporary creation, exploring design as well as fashion and contemporary art, and the first compre-hensive study of the influence of erotica on design and fashion, by turns bold, luxurious and mysterious.
The exhibition features a selection of contemporary designers who draw on the iconography of pleasure in their creative work, finding inspiration in erotic and fetishist literature, along with the images, objects and clothing to which they frequently refer. The exhibition invites us to examine our own ideas and perceptions of pleasure. Designers cover the body with close-fitting garments or sensual materials, adorning them with jewellery that is aesthetically as well as erotically pleasing, creating furniture with evocative forms, works of art in which beauty and perfection are spiced with the whiff of brimstone. Nirvana shows that society's desire for sensual pleasure remains vigorous in our digital age.
The exhibition focuses on design, fashion, and also contemporary art, which helps to open our eyes: its aim is to examine our relationship with the forms and objects that give physical expression to our unconscious perceptions of sexuality and our private notions of pleasure. Celebrated and up-and-coming designers alike bring these multiple influences into the spotlight, placing in the public sphere what has hitherto remained private. Three major creators are given carte blanche within the exhibition: Mark Woods (designer), Betony Vernon (jewellery designer) and Nika Zupanc (designer).
Designers, artists and creators: Abdi Abdelkader, Milena Altini, Nobuyoshi Araki, Bina Baitel, David Baskin, Yves Béhar, François Berthoud, Barbara Bloom, Antoine Boudin, Pierre Charpin, Petros Chrisostomou, Matteo Cibic, Matali Crasset, Charlie Davidson, Marc Dibeh, Patrycja Domanska, Éditions de Parfums Frédéric Malle, Anika Engelbrecht, Matthew Epler, État Libre d'Orange, Naomi Filmer, Sylvie Fleury, Björn Franke, Rachel Freire, Marie Garnier, Christian Ghion, Givenchy, Heeley, Roberto Greco, Julian Hakes, Zaha Hadid, Sophie Hanagarth, Jaime Hayon, Dejana Kabiljo, Cary Kwok, Masaya Kushino, Ugo La Pietra, Jacques Le Corre, Lubin, Charlie le Mindu, Gianmarco Lorenzi, Sarah Lucas, Maison Martin Margiela, Maître Parfumeur et Gantier, Luc Mattenberger, Gabriel Moginot, Eelko Moorer, Nasomatto, Mark Newson, Magdalene Odundo, Erwin Olaf, Oriza L. Legrand, Parfum d'Empire, Parfumerie Générale, Kate Peters, Karim Rashid, Mustafa Sabbagh, Olivier Schawalder, Markus Schinwald, Ettore Sottsass, Studio Job, Jean-Baptiste Sibertin Blanc, Caro Suerkemper, Gianluca Tamburini, Noritaka Tatehana, Mario Testino, Matteo Thun, Morgane Tschiember, Walter Van Beirendonck, Atelier Van Lieshout, Lucas Van Vugt, Nick Veasey, Olivier Védrine, Jean-Luc Verna, Betony Vernon, Vero Profumo, Rein Vollenga, Mark Woods, Jeff Zimmermann, Nika Zupanc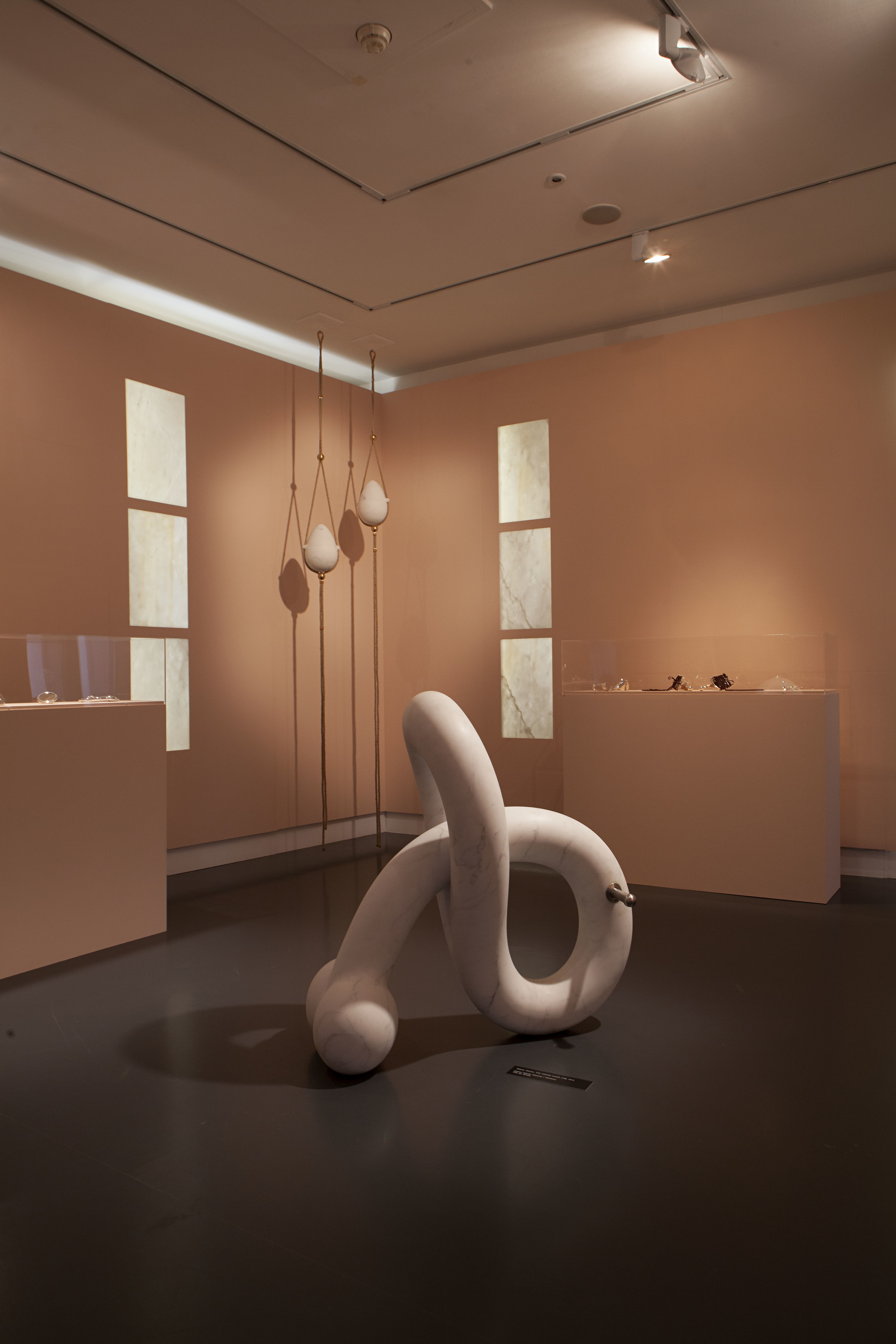 Origin Chair
Statuary Marble
56 x 105 x 112 cm
2012 - 2018 / Edition : 6